グロービスUSA テクノベート・オンラインセミナー 「革新的なイノベーションのためのAI戦略」
2022年3月17日(木)
2:00 PM - 3:30 PM (PDT)
詳細:
AIに関連する「4つのメガトレンド」、AIが提供する「4つの役割」、AIが持つ「4つの破壊的なパワー」について語るオンラインセミナーです。
グロービスUSAによる「テクノベート」オンラインセミナー
グロービス経営大学院 副研究科長のホルヘ・カルボ博士がAIの最新動向について語るオンラインセミナーを開催します。
今後、ビジネスにおける業務の60%は自動化され、人々は徐々にスマートホームやスマートシティに住むようになる、と予測されています。
AIの発展と普及は次の4つの技術要素によって後押しされると考えられています。

ビッグデータ

5G

IoT

クラウド・コンピューティング
これらの技術とAIの普及により、ビジネスや私たちの生活は大きく変化すると予想されます。
このオンラインセミナーでは、カルボ博士により以下の内容についてお伝えします。
AIが提供する「4つの役割」

AIが持つ「4つの破壊的なパワー」

AIによって革新的なイノベーションを起こす企業の特徴

それらの企業がAIと人材をどのように活用し成長しているか

それらの企業がAIを使ってどのように独占的な地位を築いているか
これらの論点について、ウーバー、アップル、アマゾンなどの事例を用いて、網羅的かつ実用的なアプローチでお話します。
どなたでもご覧いただける無料のオンラインイベントですので、ぜひご視聴ください。
スピーカー:
グロービス経営大学院 副研究科長 兼 ESADEビジネススクール AIビジネス戦略 アカデミックディレクター、ホルヘ・カルボ博士
モデレーター:
グロービスUSA CSO&CFO 加藤 康行
概要
| | |
| --- | --- |
| 日程: | 2022年3月17日(木) |
| 時間: | 2:00 PM - 3:30 PM (PDT) |
| 場所: | Online |
| 参加費: | 無料 |
| 言語: | 日本語 |
アジェンダ
| | |
| --- | --- |
| 1:30 PM (PDT) | レセプション開始 |
| 2:00 PM (PDT) | ご挨拶 |
| 2:05 PM (PDT) | パネルディスカッション |
| 3:00 PM (PDT) | Q&A |
| 3:15 PM (PDT) | まとめ |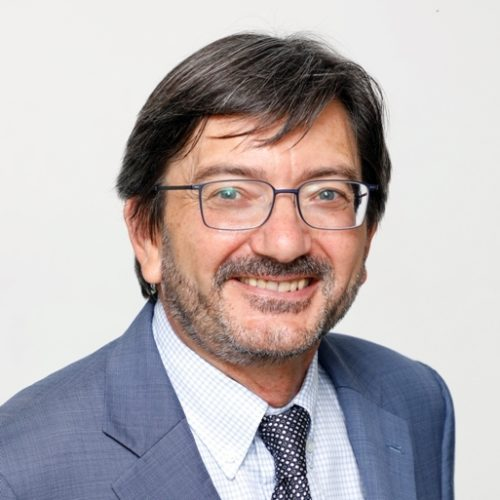 Jorge Calvo
GLOBIS University, Deputy Dean
Jorge Calvo is a professor-researcher, author, and strategy advisor with 35 years of corporate experience as former Executive Officer at Roland Digital Group Corporation Japan, President Global SCM Division HQ, and President & CEO in EMEA. His experience spans the fields of digital transformation, global operations management, global supply chain management, organizational change development and business strategy development, within the digital industry.
Beyond this, Jorge serves as a Visiting Professor of Strategy and General Management, Executive-in-residence and Academic Director of Artificial Intelligence program at ESADE Business School, Barcelona, is a Board Director and member of the Japan Operations Management & Strategy Association, a member of the innovation advisory board of the Catalonian Economists Association, Barcelona 4.0 think -tank, as well of several academic and social associations. He is also an active keynote speaker on Strategy, AI & Digital Transformation and Leadership.
Yasuyuki Kato
CSO & CFO, GLOBIS USA, Inc.
After graduating from university, Mr. Kato joined a prominent general trading company in Japan, where he was engaged in global business projects based in China. He then joined a strategy consulting firm where he served as consultant for client companies wishing to expand overseas and develop new businesses.
Prior to joining GLOBIS USA, he served as Vice President of GLOBIS China.
As a corporate training instructor, he provides a variety of lectures on many topics, including corporate strategy, corporate philosophy, and overseas expansion strategies.
今すぐ登録